If you have followed the content link, but actually want information on how the equipment items of M&M:HO work, use following link: Equipment
There are a few similar items that drop from the same locations but do not get a bonus for combining them with other items; these are Unique Items
The exact location or battle required for some items are in question. But a few theories can be questioned at the time, and in time maybe some can be proven.
NOTE: When adding/editing items and sets, please follow the Equipment Standardisation Guide.
Expedition Sets
Edit
Expedition Rewards are somewhat random in stats, with slightly different artefact values on the "same" item. The two top stats are always static in type, but Spirit or Luck depends on the specific item. Unit improvement is static.
The amount of Luck or Spirit is static to all expeditions, almost. Might class items containing Luck will always have a unrefined value of 172, and Magic class items containing Spirit will be the same (192 Spirit/236 Luck Fully refined). But Might class items containing Spirit, and vise versa, will range from 65-90 randomly(?), unrefined as well.
Expidition Sets are unique in the sense that they are not only bound to class, but also faction. E.g. "Requires Cleric Class".
The Inquisition
Death Knight
Edit
Death is Justice
The Holy Quest
Necromancer
Edit
Origins of Belketh
Revelations of Belketh
Heroic Battle Sets
Edit
Heroic Battle items stats and unit improvement is random(ish) and only bound by their artefact value, which in turn depends on which heroic tier you are battling on. Note that the follow example are from the same heroic teir (2), but do not share the exact artefact value.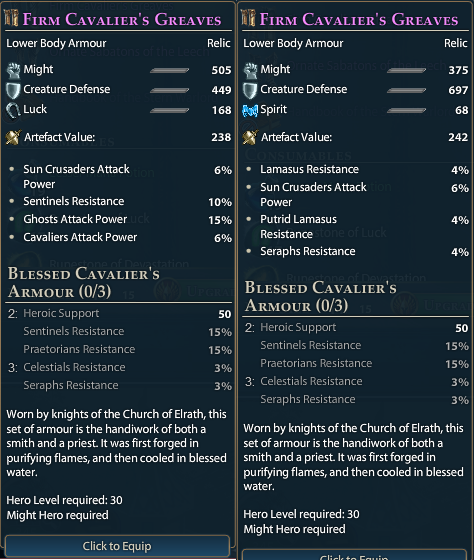 Raid Sets
Edit
Weekly Boss Sets
Edit
Treasures of the Flying Barges
World Map Sets
Edit
Death Knight
Edit
Necromancer
Edit